If you follow me on any social media you may have noticed that our family has begun something completely new and different for us. We've started a small business! Our business is called Babe Homemade and we make pint sized picnic tables and have just started into junior sized tables as well.
If you know us at all you may be thinking, "How did this happen? I didn't know they were into woodworking. Has this always been a dream of theirs or something?"
Well haha....those are questions we asked ourselves about a month ago too. This all started because Austin decided to make our kids a small table that they could just go bonkers with...so they wouldn't go bonkers on our nice dining room table. At our old house we had a breakfast nook space where we used an Ikea table and that was where the kids usually ate. So I mean Ikea....it doesn't really matter so much how well it holds up, cause we all know that it's not going to hold up forever whether our kids go nuts or not. But when we moved to ...the rental house (oh Lord, how you refine me through such a tiny amount of square feet), we didn't have space for the Ikea table. We naively said "well we'll just all use the dining room table" which was given to us and it's nice looking and the chairs are actually comfortable. So Austin started getting a little proverbial twitch every time a kid lifted their arm with fork in hand to stab our table repeatedly as a part of the their demands or music making or whatever it is that they thought they were doing in that moment.
He made a picnic table for them and I painted it while we sat around with friends. No biggie.
Then our moms saw it.
They both said at separate times that we should sell these. We blew them both off. They're our moms, they have to say stuff like that. But when they kept insisting, we thought "Alright we'll post it on Facebook and see what happens."
Well quite a bit happened. Twelve orders in one week happened and an entrepreneurial spirit, which has apparently laid dormant within us, was awakened and excited.
EXCITED.
Y'all. I love being excited. I love it. I really really love it. And as I type away to the tunes of Walk The Moon in my earbuds at a (too) cool coffee shop, I'm trying so hard not to dance in my seat. And I might be a little...but it's fine cause there's all kinds of eccentric people here. I can't even believe they let this plain old stay at home mom into their bailiwick (isn't that a fun word?). I could use a little extra eccentricity....so I'll do my subtle dance!
Anyway.
The more we dove into the wonderful, wild, detailed world of small family business....the more in love we fell. I seriously love it. I love that we get to reach and meet all these people we never would have. I love making little memes to post on our page. I love planning and dreaming. I love the way each week is different. One week a particular avenue may draw in business, the next week it may have run itself out...so we create a new plan and think of new strageties.
None of this surprises me all that much. I dabbled in a marketing major for a bit and I always enjoyed it. I'll tell ya what caught me off guard.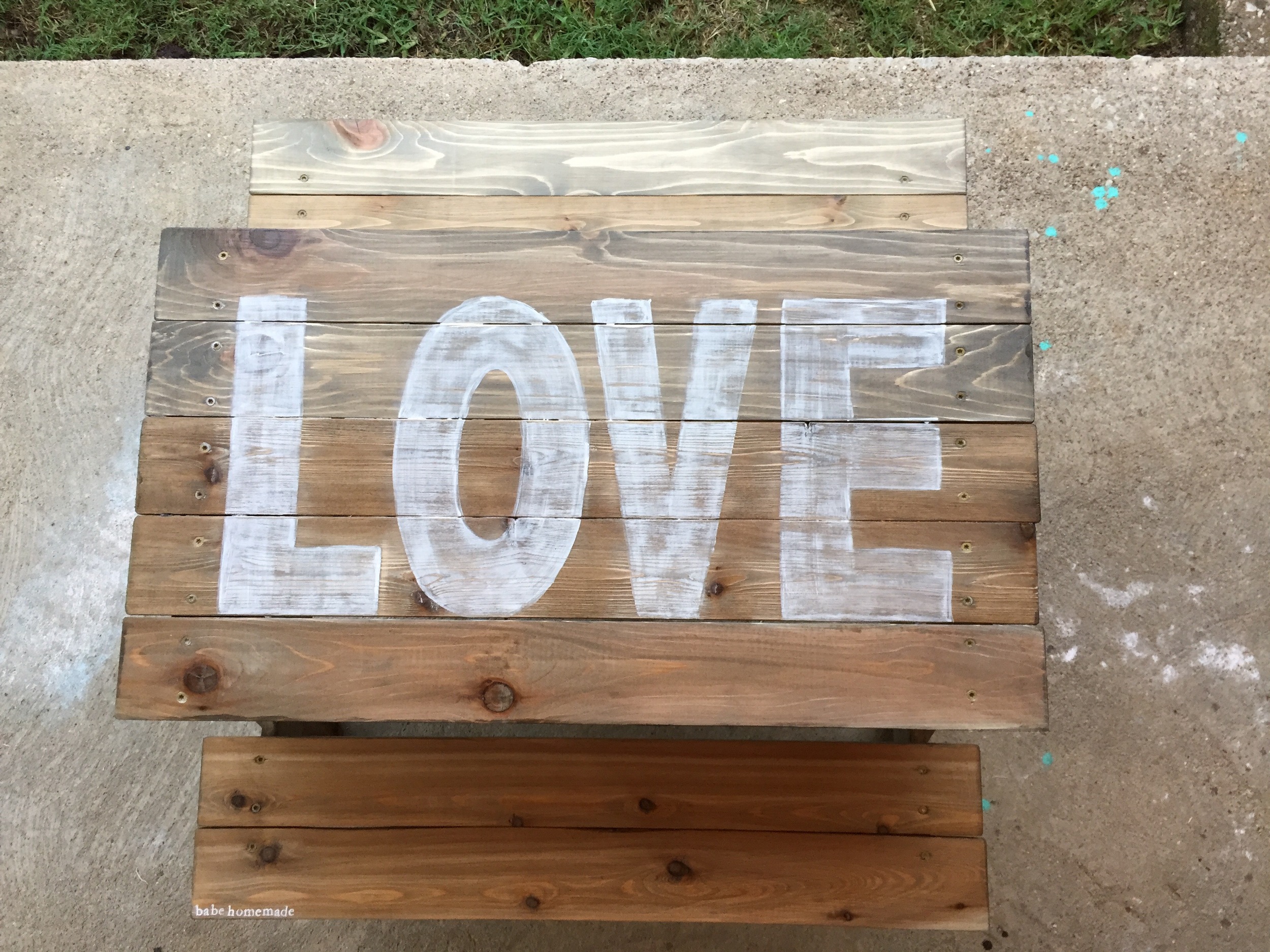 I love building.
Putting hand to tools, changing the shape and color and feel and look of a thing. Making a fun and cute and useful thing out of a pile of unmade things. It's exciting and so gratifiying. Meticulously drawing fun words for each customer relaxes me. Each brush stroke of stain or polyurethane or paint is therapy and prayers and listening.
It makes perfect sense. I've always been a tactile learner. I've always been tactile in every way. The only way I can go shopping in a store is to touch. Touch the clothes, touch the shoes, touch the fabric--sight just doesn't take me far enough. (Internet shopping almost always breaks my heart, but cause I'm a stay at home mom I keep going back for more heartbreak. In the internet my kids can't push entire shelves of neatly folded clothing on the floor over and over--that's REAL people.)
Using my hands and my sweat and my focus puts me in a groove that I want to keep returning to.
I love building. And just like clothesline drying, this is a love that I may never have happened upon in a more orthodox season of life.
Ya know how people say God gives you the desires of your heart? Oh wait--ya know how the bible says that? Well I think sometimes we start thinking that if we just want something bad enough that we can catch God in a loop hole and he'll have to give it to us. But I'm finding more and more that God actually gives me new desires. Desires that draw me to him. Desires I never would have dreamed I had in me.
Babe Homemade is a desire we NEVER EVER would have predicted. We love working together. I sand while Austin cuts, then he carefully assembles and I stain. I paint and sand some more. We critique and perfect together. I hope this grows, I hope it becomes more and more real. I hope that this continues to develop into more things we never planned but God orchestrates.
If you are curious about Babe Homemade, follow us on social media! We can be found on Facebook, Twitter, and Instagram!